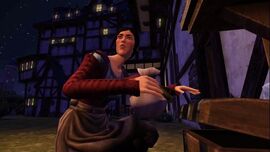 The Spy is one of the ten classes of hero, though "anti-hero" might be a more accurate descriptor. Spies live in a remote tower of the Castle called the Spy Quarters, which can only be built after the kingdom is renown enough to already have a reception hall.
Spies work as the secret agents of their governments and have many shady abilities. They can eavesdrop on any two Sims who are interacting, write secret letters, make dead drops at messenger posts, and craft poisons from various plants.
Despite presumably working for the crown, spies have many ways of disrupting the kingdom, including picking the pockets of citizens, stealing money from messenger posts, breaking criminal Sims out of the stocks, and even murdering other Sims.
Spies, like knights and monarchs, are skillful fighters, able to duel others and hone their skill by sparring and using training dummies.
Basic Hero Profession Information
According to the booklet that comes with the game:
Spies maintain communications networks, help discover (or hide) the truth, and perform the dirty work involved in politics. Spies may bribe, pickpocket, steal funds from the messenger post, craft poisons, gather herbs, engaged in combat, go hunting, gain special fighting moves by leveling up, fight more effectively without armor, eavesdrop, propose edicts, and break Sims out of stocks.
Signature Objects: Crafting table, training dummy, tactical map, scribe table and interrogation chair
Interrogation Chair
The Interrogation Chair can either be purchased in Furnish Mode or gained in a quest. It allows you to Lock Up a Sim on the active lot.
Sims locked into the Interrogation Chair have a Will gauge (much like the progress gauge on the Blacksmith's Forge or the Leeches/Anaesthetic gauge on the Physician's Operation Table) and an Alertness gauge. Each interaction performed on the locked up Sim is reflected on these gauges.
Alertness Gauge
The Alertness Gauge goes down with each interaction. If the Alertness gauge goes down all the way, the locked up Sim passes out and the gauges reset.
Will Gauge
Pushing the Will gauge upwards will Persuade the Sim, downwards Interrogates them, getting the gauge to the gold portion will allow you to Interrogate or Persuade the Sim. The table below shows which way and by how much each interaction pushes the Will gauge (as the Physician's one/some/a lot of leeches does).
| | Up (Persuade) | Down (Interrogate) |
| --- | --- | --- |
| Not much | Sway | Threaten |
| Some | Show Box | Douse |
| A lot | Tickle | Chinchilla Attack |
Pushing the Will gauge all the way up or down to the red portion will make the interrogation session fail. The locked up Sim will either be released (failed Persuasion) or pass out (failed Interrogation). You can also choose to end the interrogation early by choosing the Release option on the chair.
Break Someone Out of Stocks (Hard)
Craft and Deliver a Vomicious Venom (Easy)
Eavesdrop on a Conversation (Easy)
Feed the Beast (Easy)
Make a Secret Drop (Easy)
Pass an Edict (Medium)
Pay Taxes (Easy)
Pickpocket Traveling Merchant (Medium)
Press 3 Adults for Information (Easy)
Sail to Foreign Territory (Medium)
Eavesdrop on the Guildsman's|Pirate's Conversation, followed by Deliver Secret War Info to Monarchy [Pirates & Nobles] (Medium)
Interrogate the Guildsman|Pirate for War Secrets, followed by Deliever Secret War Info to Monarchy [Pirates & Nobles] (Medium)
Pickpocket the Guildsman|Pirate after drinking Ethereal Elixir, followed by Hand over Battle Plans to Advisor [Pirates & Nobles] (Medium)
Leveling
Level
Title
Abilities
Notes
1
Under-Spy

Can Pickpocket other Sims
Can craft Poisons at the Crafting Table
Can gather various herbs
Can combat other Sims
Can view politics at the Tactical Map

Recipes-

Coagulating Compound
Truth Tonic
Vomicious Venom
Mystic Grog

2

Slightly higher chance to Pickpocket other Sims
Slightly more proficient at Poison Making at the Crafting Table
Can gather various herbs
Fighting proficiency moderately increased
Can view politics at the Tactical Map
Takes slightly reduced damage when fighting without armor
"Restful Dance" combat tone unlocked

Recipes-
3

Higher chance to Pickpocket other Sims
More proficient at Poison Making at the Crafting Table
Fighting proficiency moderately increased
Can view politics at the Tactical Map
Takes slightly reduced damage when fighting without armor
"Whirling Takedown" combat move unlocked

Recipes-
4

Higher chance to Pickpocket other Sims
More proficient at Poison Making at the Crafting Table
Fighting proficiency moderately increased
Takes slightly reduced damage when fighting without armor
"Steeled Defense" combat tone unlocked

5
Spy

Higher chance to Pickpocket other Sims
Ability to Steal funds from messenger posts
More proficient at Poison Making
Fighting proficiency moderately increased
Takes slightly reduced damage when fighting without armor
"Mortal Blow" special combat move unlocked
"Furious Onslaught" combat tone unlocked

Recipes-

Pestilence Poison
Rejuvenating Reagent
Sleeping Draught

6

Higher chance to Pickpocket other Sims
Slightly higher chance to Steal funds from messenger posts
More proficient at Poison Making
Fighting proficiency moderately increased
Takes slightly reduced damage when fighting without armor

7

Higher chance to Pickpocket and Steal funds from messenger posts
Higher proficient at Poison Making
"True Striking" combat tone unlocked
Fighting proficiency highly increased
Takes reduced damage when fighting without armor

8

Higher chance to Pickpocket and Steal funds from messenger posts
Higher proficient at Poison Making
Fighting proficiency highly increased
Takes reduced damage when fighting without armor

9

Great chance to Pickpocket and Steal funds from messenger posts
Great proficiency at Poison Making
Fighting proficiency greatly increased
Takes little damage when fighting without armor

10
Spy Master

Great chance to Pickpocket and Steal funds from messenger posts
Great proficiency at Poison Making
Fighting proficiency greatly increased

Bonus Levels

Further leveling will increase money/day and improve profession interaction success