Sagewort is a bush herb found in a few locations around the kingdom.
It's used in medicine and wizardry.
Superstition tells that nibling on this herb will make you smarter. Thusly, peasants and other commonfolk avoid it like the plague. It grows best at the tops of cliffs where there is little soil and little competition.
Sagewort may contain Seeds, Grassweed, or Bloodmoss.
Bush Locations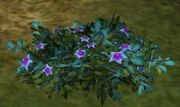 Sagewort can generally be found on the edge of a cliff.
There are 8 known Sagewort bushes:
Notes