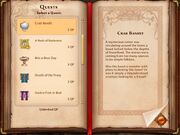 Quests
are one of the three pillars of
The Sims Medieval
. The player can complete quests to advance their
Kingdom
and gain
experience
for characters.
The player is given a menu with all available quests. After selecting a quest the player must immediately select an approach to the quest. Each approach has certain specialists who can participate and a quest leader must be selected. A quest can be completed by only one specialist, but up to three can be involved. A quest can be completed by Sims out of the Kingdom.
Every quest uses up quest points and Sims involved gain rewards depending on how well the quest was completed. Rewards are divided in to platinum, gold, silver and bronze level. A quest rewards Sims with experience, the possibility to level up, gaining Resource Points and earning money from treasures discovered along the way.
Players have the opportunity to replay quests and discover new ways of solving them.
As a quest is in session, the combined Focus of all Heroes is used to deteremine the performance of your Heroes. If Focus is positive, quest performance goes up. If Focus is negative, quest performance will go down. However, regardless of focus, if you are Behind on Quest, then performance will suffer until you get back on track.
Should your sim ever have the Quest Performance gauge fall below the Bronze requirements however from poor Focus or Quest Neglection however, your hero will be sent to the Pit. Ending the quest in failure.
Ad blocker interference detected!
Wikia is a free-to-use site that makes money from advertising. We have a modified experience for viewers using ad blockers

Wikia is not accessible if you've made further modifications. Remove the custom ad blocker rule(s) and the page will load as expected.