Leech

Icon

Description

Got blood?

Notes

Used for Physician's operations
"Got blood?"
Description
Edit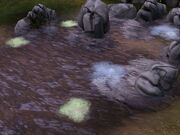 The Leech is a miscellaneous item in The Sims Medieval, which is used by the Physician in operations to treat illness.
Leeches can be collected by the Physician from green bubbling spots in rivers, ponds and the seashore. A successful harvest usually results in approximately 10 leeches. You could also get Frogsverify, Toads or Pond Scum in the process.
Used by Physician in operations to cure illness.
Cooking: Moustache Wax (Recipe from Crab Bandit Quest)
Harvest from green bubbling spots in rivers, ponds and seashore.
Buy from Village Shoppe