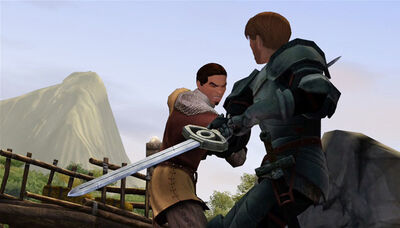 The Knight is one of the ten classes of hero in The Sims Medieval. The Knight class is unlocked once the kingdom has built it's Barracks, which acts as their home and headquarters.
The Knight is not only an experienced warrior, but also the leader of the kingdom's army. Knights begin the game automatically acquainted with three guards.
Knights are one of the few hero Sims that can travel to other Kingdoms for quests.
Discuss Foreign Affairs with a Territory Leader (Easy)
Duel the Challenger (Easy)
Feed the Beast (Easy)
Guard Forest Entrance (Easy)
Hunt in the Forest (Medium)
Pay Taxes (Easy)
Practice Military Strategy with Someone (Easy)
Practice on Training Dummy for 2 Hours (Easy)
Sharpen Sword (Easy)
Train a Sim for 2 Hours (Easy)
Brawl Marauding Pirate [Pirates & Nobles] (Easy)
Threaten Merchant [Pirates & Nobles] (Easy)
Practice Making War Faces with the Guildsman|Pirate, followed by Brawl with the Guildsman|Pirate, followed by Challenge the Guildsman|Pirate to a Duel [Pirates & Nobles] (Hard- requires Friend relationship (positive actions);, Do Not- Duel to the Death, if Guildsman|Pirate dies, responsibility will NOT complete)
Leveling
Level
Title
Abilities
Notes
1
Sir/Dame

Can combat other sims
Can strategize at the Tactical Map

2

"Restful Dance" combat tone unlocked
Fighting proficiency slightly increased
Can strategize at the Tactical Map

3

"Whirling Takedown" special combat move unlocked
Fighting proficiency slightly increased

4

"Steeled Defense" combat tone unlocked
Fighting proficiency increased

5
Knight-Captain

"Mortal Blow" special combat move unlocked
"Furious Onslaught" combat tone unlocked
fighting proficiency increased

6

Fighting proficiency increased

7

"True Striking" combat tone unlocked
Fighting proficiency moderately increased

8

Fighting proficiency moderately increased

9

Fighting proficiency greatly increased

10
Commander

Fighting proficiency greatly increased

Bonus Levels

Further leveling will increase money/day and improve profession interaction success
See Also