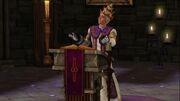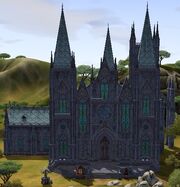 The Cathedral is the house of worship for Jacobans. It's also where the Jacoban Priest lives.
Leading up to the cathedral's grand entrance is a porch with a fountain on either side. The cathedral immediately opens up to the main church area, with six pews facing a pulpit in front of gigantic altar. To the side of the pulpit is a desk for the priest or his assistant(s) to write at. A small hallway to the left of the nave leads to the priest's living quarters, complete with a well-dressed table with comfortable chairs, a room divider, a large bed, and a gigantic fresco that covers the entire wall behind the bed. Outside the Cathedral is a royal messenger post, a well, and a proclamation board the priest uses to post proclamations.
Placing a Cathedral in your kingdom increases its capacity for Culture by 3 and Security by 1.