Quest Loot Table
Platinum
RP
§
XP
Aspects

Gold
RP
§
XP
Aspects

Silver
RP
§
XP
Aspects

Bronze
RP
§
XP
Aspects
Bounty Hunt: Wild Boar is a quest that can be preformed by any combat Sim:
Knight
,
Wizard
, or
Spy
. Because the
Monarch
plays a supporting role, they cannot do this quest.
The quest has two approaches: Save The Boar and Slay The Boar.
Slay the Boar
Edit
In Slay The Boar, the quest is very short. You start by letting the Monarch or Royal Advisor know that you wish to hunt the boar. It is assumed that depending on the traits of the Monarch, they will either agree or disagree with your decision to kill the boar.
After you become an official bounty hunter you should go to the
forest
to find the boar. Once you get there you'll find a camp of three other bounty hunters. You question each of them about how the boar hunt is going. One will say "hic..." and pass out, another will request a glass of Ale, the last will want to hear a good joke.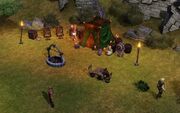 When you give the Ale to the bounty hunter he'll get drunk and tell that his secret was "You are not welcome here." When you tell the joke to the other bounty hunter he'll appear to be bothered by something. Become his friend and ask him "What's bothering you?" He'll tell you that despite their best efforts they have no trace of the boar. You then get a choice: Search Their Tent or Search The Forest.
If you choose to Search The Forest you will stumble upon a wounded priest. You can run away from him or help him. If you help him he'll tell you that a giant orange boar attacked him near a cave. The cave near the graveyard.
If you choose to Search Their Tent you will find a book "The Truth About Boars". It will tell you that boars are fond of truffles that grow around damp caves.
From here all you have to do is go to the cave and kill the boar. Every time you try you'll get the choice to attack or run away. Chose your time wisely, as focus is important in killing the boar.
Once you manage to kill the boar you can bring a part of it to the Monarch to receive your bounty!
Ad blocker interference detected!
Wikia is a free-to-use site that makes money from advertising. We have a modified experience for viewers using ad blockers

Wikia is not accessible if you've made further modifications. Remove the custom ad blocker rule(s) and the page will load as expected.