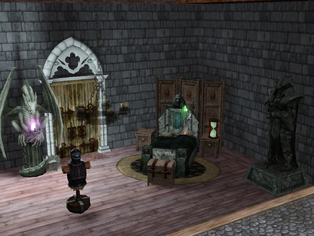 Beds are a type of furniture which allow Sims to restore their energy, although it can alternatively be restored with potions or meditation, the latter only being available to wizards. All beds function the same way, but they vary in the quality of their effect and whether they allow two or one occupants.
As well as classic beds, there are four tents that act as outdoor beds. There are not as many interactions available with tents.
Interactions
Edit
Beds have a number of sleep-related interactions: "nap", "daydream", and "sleep until Well-Rested". Naps take a short amount of time and restore only a small amount of energy, but grant a Sim a temporary positive buff. Commanding a Sim to sleep until they are well-rested will make them sleep until their energy bar is almost completely full, and possibly a little longer afterwards. The actual "Well-Rested" buff does not need to be granted to a Sim for them to wake up autonomously.
If Sims are lying on a bed and a romantic interest is nearby, they have the option to invite that Sim to join them on the bed. This changes the interactions with the other Sim to more intimate gestures: holding hands, cuddling, making out and woohoo. Beds are thus necessary for Sims to have children.
After sleeping in a bed, the sheets will no longer be straight and orderly. Sims may autonomously decide or can be commanded to "make bed", returning it to its former look.
The quality of the "Well-Rested" buff depends on the bed; more expensive beds generally (but do not always) provide a better buff. A bed's quality can be seen on its card when hovering over it in Furnish Mode. The cheaper beds will only provide a small buff of +5, but beds can provide anything up to +30, and in either case this buff will last for a significant part of a Sim's day. (Its length is dependent on how fast a Sim's energy bar decreases.) The Well-Rested buff is not offered by potions or by meditating, making beds an attractive option even for Sims that have these other options.
List of Beds
Edit
Notes:
Only Double beds can be used for private Woohoo.
For all tents have a stat of Stress Relief: 3
The Well rested is labeled in-game in the top right of the item window and is denoted simply by +, ++, +++ rather than a valued amount.
Well Rested is a positive buff that can be gained from sleeping. For a + bed this is a bonus of + 5 focus.

Ad blocker interference detected!
Wikia is a free-to-use site that makes money from advertising. We have a modified experience for viewers using ad blockers

Wikia is not accessible if you've made further modifications. Remove the custom ad blocker rule(s) and the page will load as expected.